Home

›
Bluebird 50 Watt 12 Volt Mono PERC Solar Panel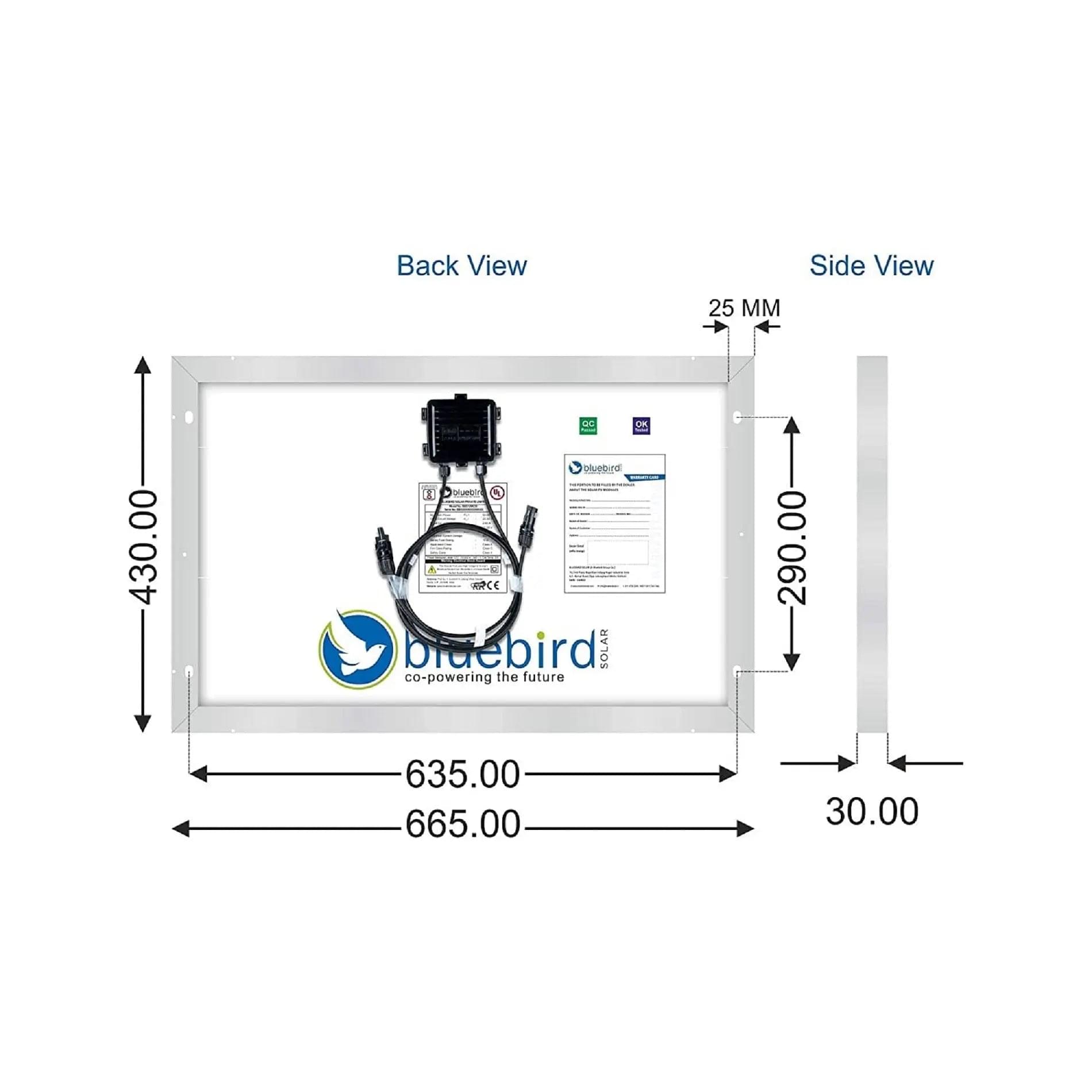 -->
Very good quality and efficiency
Very high efficiency with currents reaching near to short circuit current.
So far, we are able to use the panels effectively for generating power as estimated!
Using it for my old car battery with excide 10A charger working well
Discussed with bluebird company, they responded positively agreed to send missing connectors. Also agreed to change the actual product description what they are sending to customers.
how much of AH battery is used for one panel

The suitable ampere-hour (Ah) capacity for a battery to pair with a 50-watt Mono PERC solar panel depends on factors such as daily energy consumption, sunlight hours, and desired backup duration. 
As a general guideline, for a daily energy production of approximately 400 watt-hours (assuming 8 hours of sunlight), a 12-volt battery with a capacity of around 50Ah may be suitable for storing the generated energy for one day. Actual requirements may vary based on system efficiency and specific usage patterns.

How much does 50 watt solar panel cost for bulk purchase? Need for solar street light system

Sir, thanks for enquiring about Bluebird 50 Watt 12 volt solar panels prices. For bulk requirements the cost of a 50 watt solar panel can vary depending on your quantity and delivery location. Our team will get back to you soon for discussion on your requirement

What can I run on a Bluebird 50 watt Mono PERC solar panel?

Sir, Bluebird 50W Mono PERC solar panel can be used to power a variety of small electronics and appliances, such as lights, small fans, phones, tablets, and cameras. It can also be used to charge batteries.

Do I need special equipment with a 50 watt solar panel?

Sir, inorder to use a 50 watt solar panel, you will need a charge controller to regulate the amount of power going to your battery or device, and you may also need an inverter to convert the DC power generated by the solar panel to AC power for use with household appliances.

Which instrument should I use to charge a emergency light with Bluebird 50 Watt mono PERC solar panel ?

Use any 12 Volt compatible MPPT/Charge Controller
Frequently Asked Questions