Home

›
Bluebird 100 Watt 12 Volt Mono PERC Solar Panel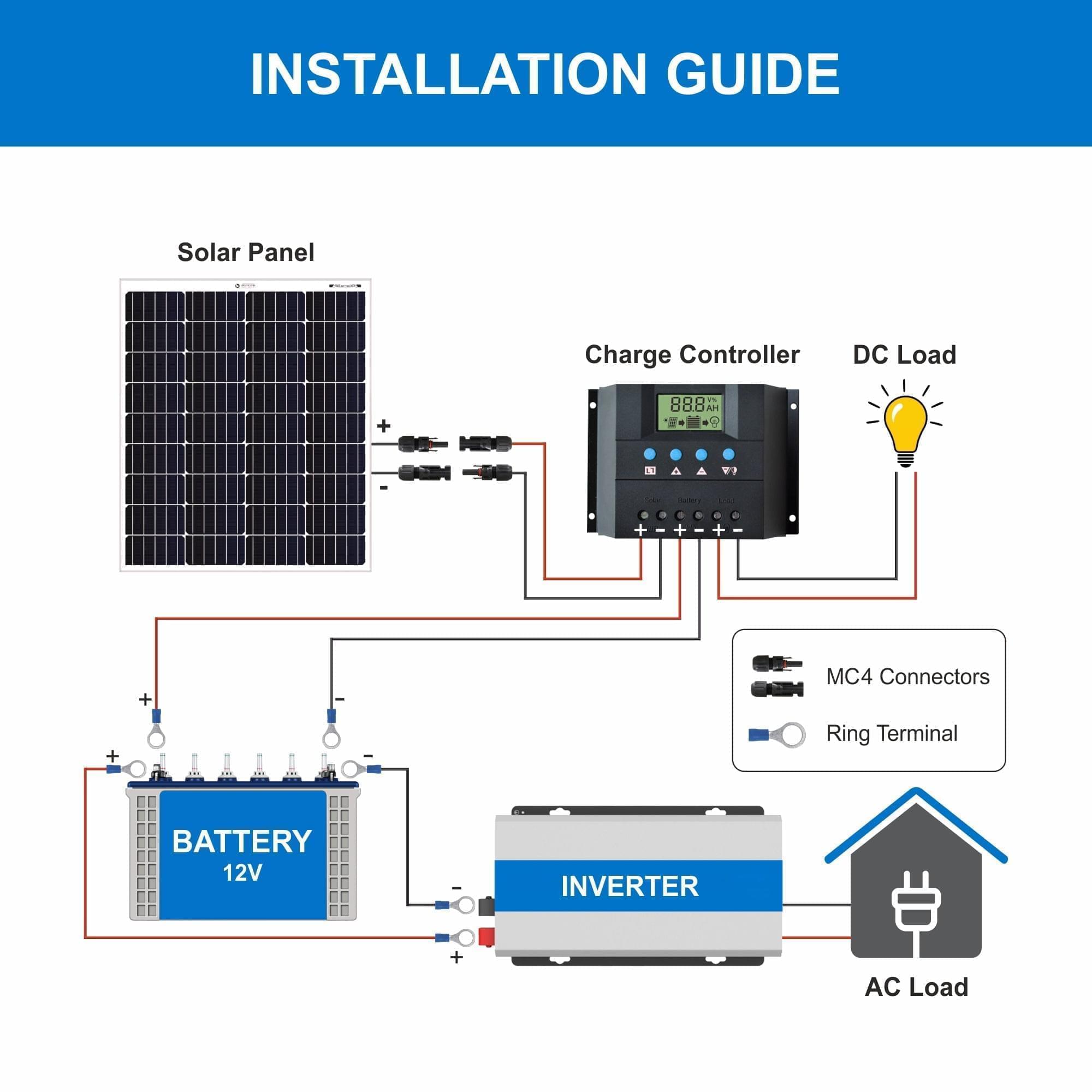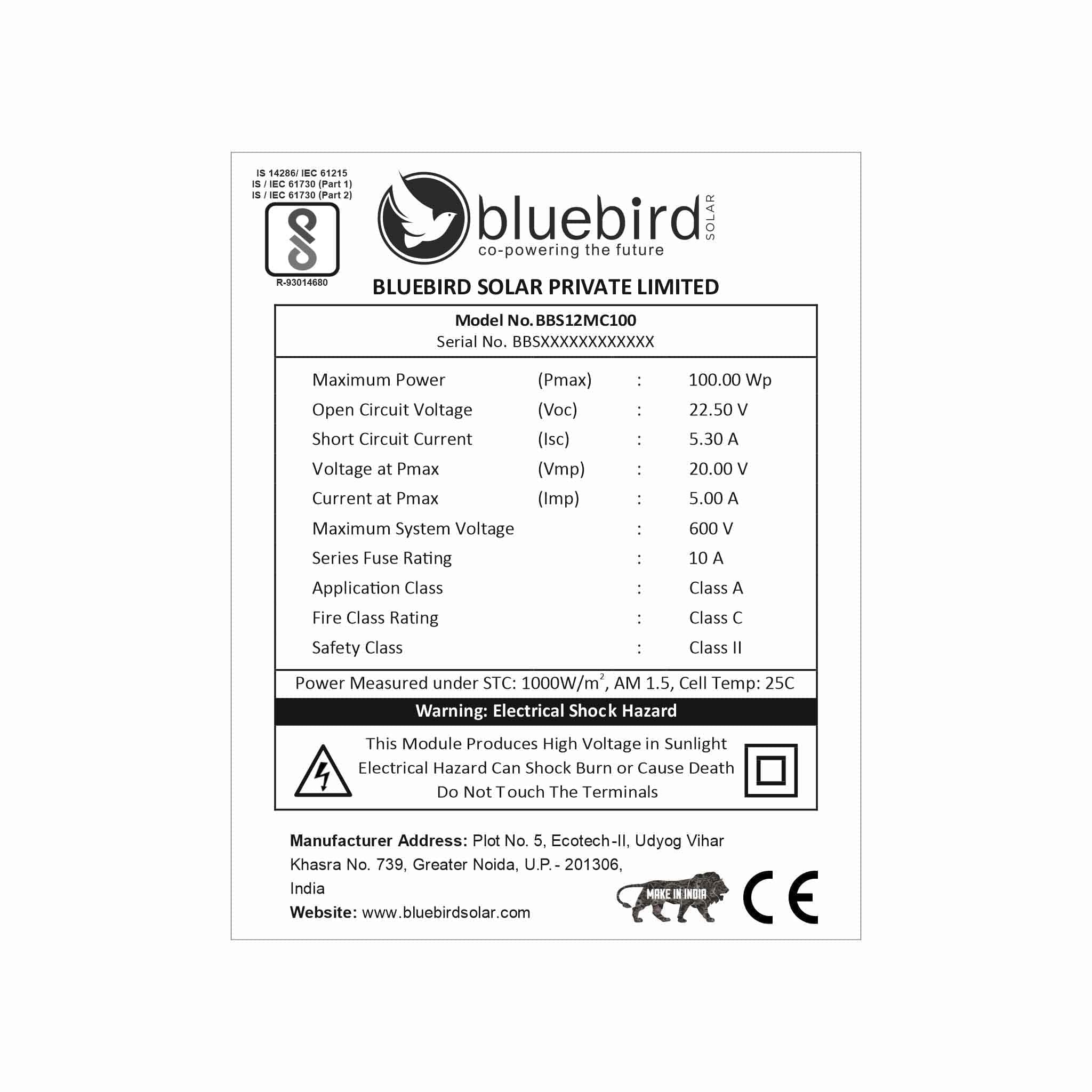 -->
Can i use with 12v charge controller

Yes

How much energy does it produce per hour?

It will produce 1000 Wh of energy from 8:00 AM to 4:00 PM, i.e. 125 Wh of energy per hour.

100 watts 2 panel howmany time take to charge 150 ah c10 sollar battery

Sir, If not connected to any load 2 solar panels of 100W will charge your battery in 10 - 15 hrs

Q: How much does a 100 watt solar panel cost if I buy 15kW for reselling purposes?

100 watt solar panel price varies depending on the type, quantity and location. 100W mono PERC solar panel prices will be different from 100W polycrystalline solar panels. If your are planning to get Bluebird 100W solar panel price for distribution purposes, please share more details about your requirement here - Share Bulk Requirement

How to get a subsidy benefit on 100 watt solar panel?

Subsidy on a 100 watt solar panel is not directly available through the company. The subsidy is available on On-Grid solar rooftop systems not products like solar panels, inverter batteries etc. To know more about solar rooftop subsidy, eligibility criteria, process read this article - Solar Rooftop Subsidy in 2023

What is included in the Bluebird 100 Watt solar panel price?

Bluebird 100 watt solar panel price for the online purchase is inclusive of the delivery charges and GST. The package will consist of a 100 watt 12 volt solar panel with cables and MC4 connectors.

What can I run on Bluebird 100W solar panel?

Bluebird 100 watt solar panel can power a variety of devices and appliances depending on the amount of sunlight available and the power consumption of the device. It can be used to power small electronic devices like cell phones, laptops, and tablets. This 100 Watt Mono PERC solar panel can also be used for powering Lighting systems, mini Water pumps and Fans. It can be used on an RV.

Can I directly connect a ceiling fan with Bluebird 100W Mono PERC Solar Panel

No. You cannot connect any panel directly to your devices. 
You will need a charge controller/inverter and a battery to which the panels are connected. 
Appliances can then be connected to this charge controller/inverter.

How many years Warranty

10 Year Manufacturing and 25 Years Performance Warranty
Frequently Asked Questions
Does a solar panel work on cloudy days?
Yes, solar panels work on cloudy days but generate less power due to low light availability. You can connect batteries with your solar power system to get power during cloudy days. It will offer you power at night.
How many Bluebird 100 watt 12 Volt solar panels do I need to power my home?The number of Bluebird 100 watt 12 volt solar panels you need to power your home depends on various factors, such as your energy consumption, location, and the amount of sunlight your panels receive. Contact Bluebird Solar Exerts to determine the optimal number of panels you must buy for your home.

Why are my solar panels not generating power or giving zero power output?
Solar panels are manufactured with strict QC to ensure they perform well for a minimum of 25 years. So, if you find your panels are not generating power, it's more likely that the defect is in some other appliance like an inverter, charge controller, wiring, or batteries. Zero power output might be due to a faulty inverter or charge controller. It's also possible that one solar panel in your solar photovoltaic array might have failed. One defective PV module can shut down the whole system when connected in series.
Why are my solar panels showing volts but no current/amperes?
No current/ampere doesn't mean the solar panel is faulty. You will not get any current if your batteries are fully charged, and there's no place for it to go. The current flow stops through the solar panel at Voc = Voltage Open Circuit. No current can flow in an Open Circuit. You are at an open circuit if your batteries are charged. Wait until the sun shines bright at noontime. Turn everything on, and this might solve your problem.